We are just down to one week in the NBA regular season and there are exactly six Western Conference teams who are still vying for their very own spot in the big dance. Let's take a look at the NBA odds for the playoffs and make a few predictions:

Securing the top seed and home court advantage is the Golden State Warriors. Then on Wednesday, the Dallas Mavericks virtually secured themselves a spot at the number 7, which happened to be clinched in their win over the Phoenix Suns, who were officially eliminated from the NBA playoffs in that particular game. As far as the rest of the story? We happen to be edging ever closer but we still got a little bit of a ride to go.

Just a smidge of a half game is what stands in between the second and the sixth seed…

The Houston Rockets were defeated by the San Antonio Spurs on Wednesday, so the Spurs are officially within a half game of the Memphis Grizzlies and the aforementioned Rockets. Record-wise, the Spurs are locked dead-even with the Los Angeles Clippers (53-26) but they are also sitting in the sixth spot because the Clippers performed better against teams of the Western Conference.

The Clippers have also got it pretty good because of such as favorable schedule which lay out in front of them, except for one lone game. That of course is against the Memphis Grizzlies, if they can pull that one off, they will be looking at the three seed or even a little higher.

In second place, the Memphis Grizzlies are holding strong despite their tie with the Houston Rockets. The regular season series between the two teams were split down the middle, but thankfully to an amazing record against their respective foes in the Southwest Division, the Grizz most certainly have the proverbial upper-hand.

Blazers Lookin' at a Five Spot

The fourth seed is owned by the Portland Trail Blazers but as it appears, they should be slated to be opening the first round of the playoffs at the number 5 spot, away from home against the favored Los Angeles Clippers. By the Blazers triumph of the Northwest Division, it guaranteed the team a top four-seed, but no home-court advantage, which of course is always determined by the team with the best overall record.

The Blazers will be going face-to-face with the Golden State Warriors on Thursday night; they more than likely will have to win the rest of their games in order to secure any kind of home court advantage. However, if the Blazers and any particular team of whom didn't win their division end up with an identical record and fill up the four and five spots, the Blazers would be the ones to acquire home court due to the fact that they won their division.

Pelicans May Squeak in There

The Pelicans of New Orleans (42-36) are the ones to be in possession of the very last playoff spot, because they have the commanding 3-1 series lead over the Oklahoma Thunder. The Pelican also have what you would call a painful final week ahead of them, so if in fact the NBA odds have them in its favor, they will have well earned it because of such a hard final week to endure.
As an aspiring NBA sports bettor, you need to understand that all successful bettors lose sometimes. The key to being a successful sports bettor is winning more bets than you lose and knowing how to deal with the losses. This is just one among the many winning strategies you must adopt in order to succeed in this sports betting industry. Sports betting experts are known for their advice, which is invaluable in your quest to always make the most informed betting decisions. Consider this article a free resource from an expert sports bettor.

One thing you should keep in mind when undertaking sports betting is never to use your emotions when making a bet. You might like to bet on your favorite team but your favorite team might not be the best. Always keep your emotions at bay when betting in order to make an informed decision. There are many teams you can bet on in the NBA. So even if you are a fan of one of the teams, it is better to bet on other teams and leave your favorite team out of it.

Consider getting winning advice from experts who analyze the odds of a bet for you if you do not have the time to do so yourself. These companies can change the odds at any time depending on the circumstances of a game. Make sure you stay ahead of things and utilize the odds to your advantage.

So what do you do when you win? You should learn to know how to handle your winnings. It feels great to win. However, you should not lose your head over your winnings. A sports bet can net you thousands and sometimes millions of dollars in winnings. All successful sports bettors have a winning system that they always stick to. Come up with your own system or adapt someone else's winning system. This system will help you manage your money and NBA winnings.
Kobe Bryant must surely on the ninth cloud. And why not he will be after receiving a compliment from all time basketball great Michael Jordan. According to Jordan, who has been a star basketball player all through his career, Bryant has all the necessary skills to be like him.

However, Kobe faces some strict competition from Michael Jordan and this is why Jordan watches Kobe play every time the latter is on the field. Kobe has emerged as the sole comparison to Jordan. Kobe is one ring short of Michael and fans will have to wonder whether he will take the compliment from Jordan a fuel in the fire and will perform better than Michael Jordan and set new standards as the star has set in the National Basketball Association (NBA). Well, we will to wait and watch how Bryant performs in the future.

Most casinos in Vegas odds Jordan to be favored if he were to play against Kobe but the margins are getting smaller.., believes Kobe will get his 6th ring, what will make Kobe one step closer to Jordan and surely will spark again the big question, who will win in their match ? and even more so, who is the greatest ?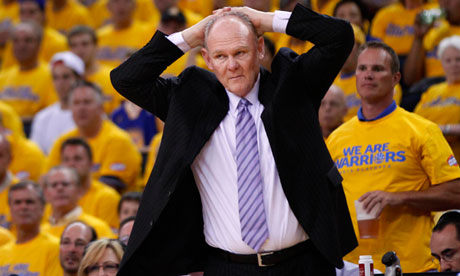 There are seven head coaches in NBA history to record 1,000 wins. One of them is now available on the open market. The reality is that there will be a number of teams interested in bringing in head coach George Karl, who was recently fired by the Denver Nuggets despite leading them to the third-best record in the Western Conference with a cast of players that experts figured would have a tough time just making the playoffs. Whether or not Karl would like to resume coaching somewhere other than Denver is a completely different story, but there are three teams in particular with which he would be a really good fit.

The numbers at wagersolutions.com are testament to how important coaching is, and one team that appears at least on paper to be an excellent fit for Karl is the Memphis Grizzlies. Memphis is a veteran team that is considered among the next in line to challenge for a spit in the NBA Finals, and after its first Western Conference Finals berth in franchise history, they may not be that far away. The Grizzlies have reportedly already reached out to Karl, which makes sense considering the structure of their team and how close they are. Karl will get the most out of the tandem of Marc Gasol and Zach Randolph, and will likely also try and find a way to get more touches for prospect Ed Davis, who seemed to get lost in the shuffle under Lionel Hollins last season. Karl would have everything he needs to succeed in Memphis, a team that is ready to win now.

Another possible fit for Karl would be the Philadelphia 76ers, although they are not nearly as close to challenging for an NBA title as the Grizzlies and that will make them a lot less appealing of a fit. Of course, the possibility that center Andrew Bynum could actually play for the 76ers might help, and they do have a couple more key pieces in All-Star guard Jrue Holiday, Thaddeus Young, and Evan Turner. The addition of Bynum at center and Karl as the head coach could in fact make this team good enough to challenge for a playoff spot, so perhaps this isn't that unrealistic of a possibility after all.

If there is one wild card team that would really benefit from hiring Karl but is still very unlikely to do it, it would be the Los Angeles Lakers. The Lakers made a big mistake going with Mike D'Antoni over Phil Jackson when they decided on their head coach last season, and the result was a disaster big enough that it could be enough for Dwight Howard to leave town soon. Los Angeles needs a head coach that understands how to slow the tempo down and capitalize on having a couple of talented big men in Howard and Pau Gasol, and Karl's offense would be a much better fit than the one currently employed by D'Antoni. The Lakers seem committed to sticking with D'Antoni despite the obvious signs that it isn't the right fit, and that makes this an unlikely move, but that doesn't mean they wouldn't truly benefit from having Karl as their head coach. For more NBA news and betting futures, don't be afraid to take an online tour.

Author Bio:

Ricky Winnor is a sports bookie and blogger who offers a wide range of betting services to his clients. He values the importance of educating his players on the latest betting trends and highly recommends that other business owners take an online tour of WagerSolutions for more information on how to use their top rated sportbook software.
More Articles...